The Perfect 1-Week Oregon Summer Road Trip 
Want to Road Trip Oregon? Here is the perfect route to take! Pack your bags, gear up, and get ready to get down, because we're going tripping all over Oregon State!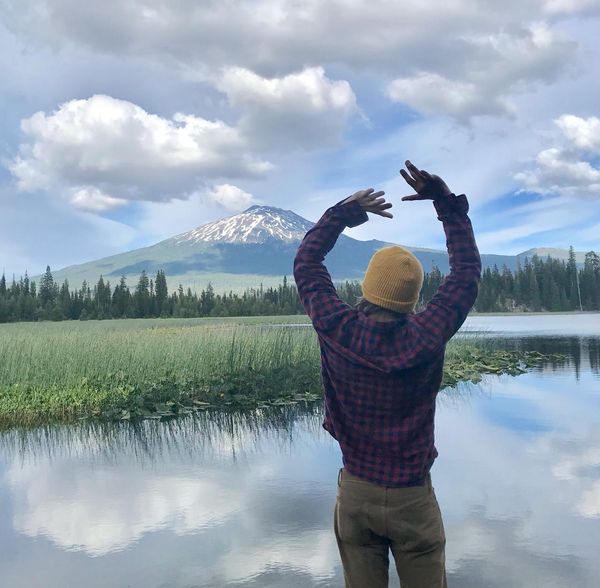 Author's Note: Hi, I'm Aaron the creator of this content.
Oregon is one of the most iconic US state's in which you could pick to take a road trip.The state is known for a diverse array of unique climate zones and topographies, mountains, rivers, lakes, coastline, and more incredible sites to see that make adventuring in Oregon a pleasure. 
If you've got a good vehicle and a can read a map then strap in because you're about to take the perfect 1 week Oregon road trip. Let's just start with the premise that you've got a little money to get around with and aren't worried about bumping into Sasquatch. 
Before We Hit the Road
So, you've got some extra cash and a week off and you want to finally take that legendary road trip of which you dream. But where do you even start? There's so much of an abundance of adventure, exploration, and relaxation to be had in Oregon it can be a bit overwhelming as to where to begin. 
Since this is my blog and my idea of the perfect road trip in Oregon, we're going to start right in the heart of Portland! Oh, don't worry there will be something for everyone on this trip friends. The outdoorsy folks who want to hike, bike, swim, and see the world will love pretty much anywhere we're about to go, and the urban shoppers, walkers, and people watchers will have a blast in the all the little towns along the way! 
Without talking about this any further, let's just get into it! Remember folks; this is your perfect Oregon Road Trip outline. Feel free to customize it to fit your needs and it's always best to leave somethings unplanned to give space for new discoveries. 
Quick tip: June - September seems to be the best time to make such an epic journey like this. That way any closed national parks or snowfall areas do not inhibit us. Grab your gear and let's hit the road!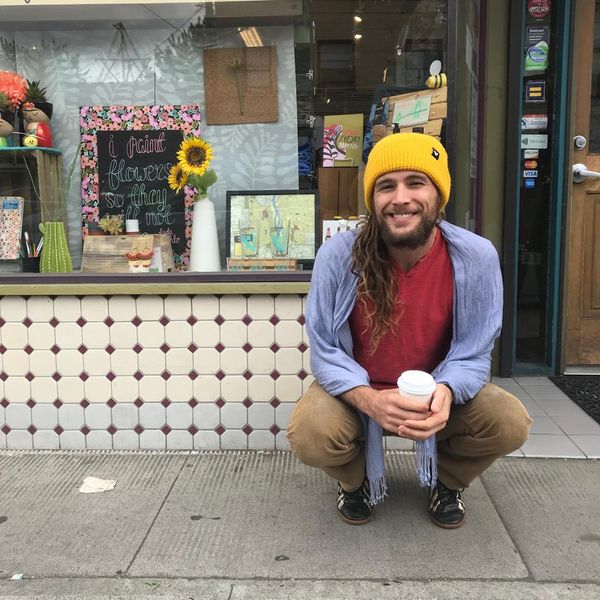 Aaron Matthew in Hawthorne District PDX
Portland 
I love to land in Portland when I get to Oregon and it's the perfect place to start your perfect road trip. If you can swing it, spend a couple of nights close to one of the city's awesome districts like Division, Hawthorne, Alberta, Mississippi, or downtown. From there you can load up on tasty craft brews, the finest street fair, fine dining, and of course - some of the world's best cannabis. Plan to hit up the local artisan markets and the infamous Saturday Market, which is actually on both Saturday and Sunday, at the Waterfront Park / Burnside area.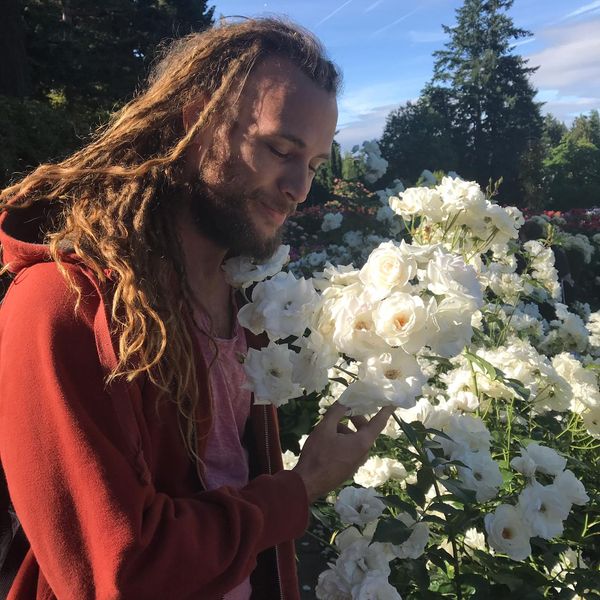 Stop and smell the roses at the International Rose Garden
You can get some great deals on your road trip supplies around town, and pretty much any type of quality outdoors sporting equipment you might want to invest in for your journey. Soak in some great live concerts, hit up the amazing Portland Art Museum, or discover some weird part of Portland through online meetups or other online collectives. There is a group in Portland doing pretty much anything you can think of. ANYTHING.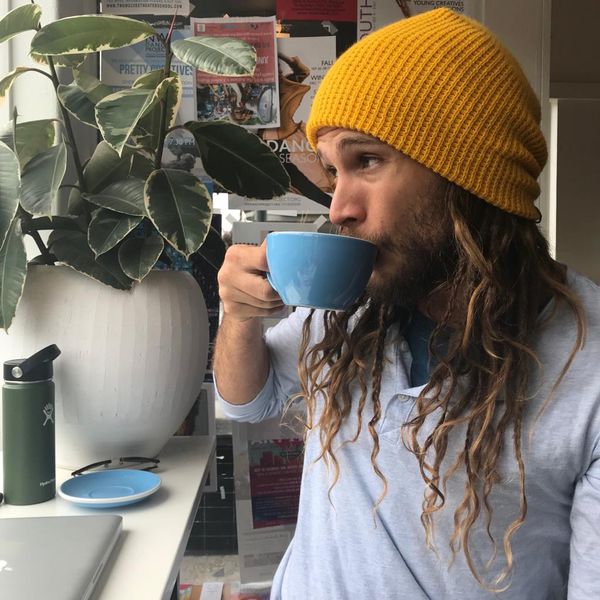 Enjoy some drinking chocolate or Turkish coffee at Azar in PDX
There's so much to do in the city that you might want to plan a few extra days around it. Here's a tip for all my family who love peaceful nature, spiritual vibes, and serene views. Check out The Grotto, The Rose Garden, or the Japanese Garden just outside of town. It's worth it! 
After you've had your fill of the city and think you've got your supplies in order, it's time put some rubber on the road and get this journey started!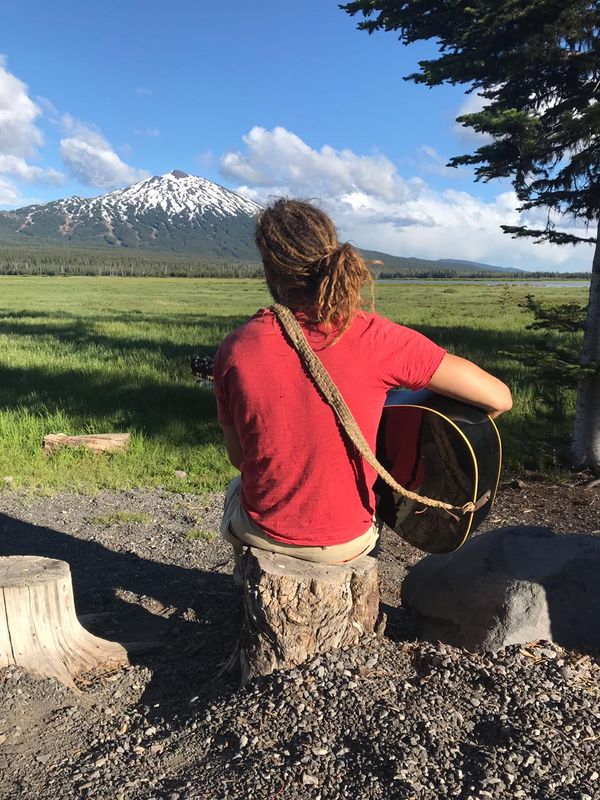 Playing music for Mt. Bachelor 
Bend 
From Portland, we're swinging over to Bend. If you're into mountains, rivers, lakes, forests, fishing, boating, biking, hiking, or just kicking it back in a quaint little mountain town with great shopping and gastronomy then you'll want to plan a couple of nights near Bend. Within a one-hour radius of the tiny town you have an amazing spread of bountiful beauty, but the town itself is quite small. Despite its petite size, it's not lacking in gastronomy or shopping. In Bend, you can find top of the line outdoor gear, cycles, and health food supplies. 
You could find a sweet Air BnB to make as a base, or you could go deep into the forest for a secluded camping experience under the starlit sky that's eloquently accented by Mt. Bachelor and the Three Sisters.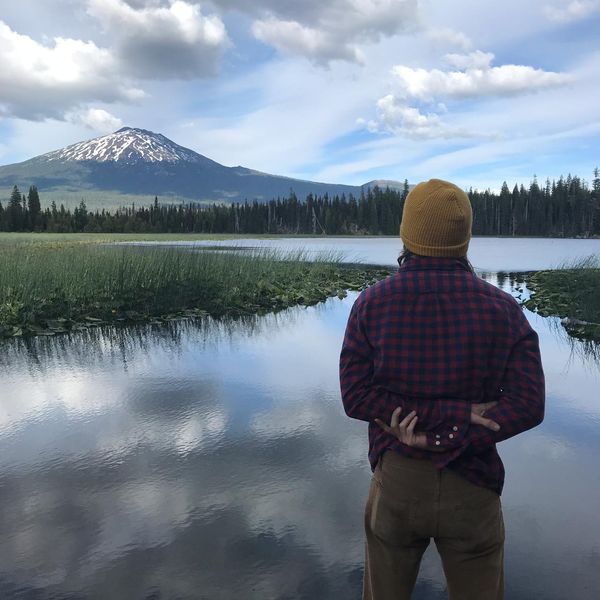 Mt. Bachelor from Devil's Lake 
Honestly, I'd recommend getting out there in nature! If you head west out of Bend, you'll find the Cascades Mountain Highway. It's a long looping highway that takes you through the choicest areas of Central Oregon. You can basecamp out on Elk Lake, Devil's Lake, or at any number of epic campgrounds and private locals along the looping byway. From there, you can drive around the area to adventure or stay put at the campsite at the lake, all while still having Bend a mere 45-minute drive away. 
Check out some of the pictures we took camping under Mt. Bachelor, hiking around the Big Obsidian Flow, and adventuring in the national forests.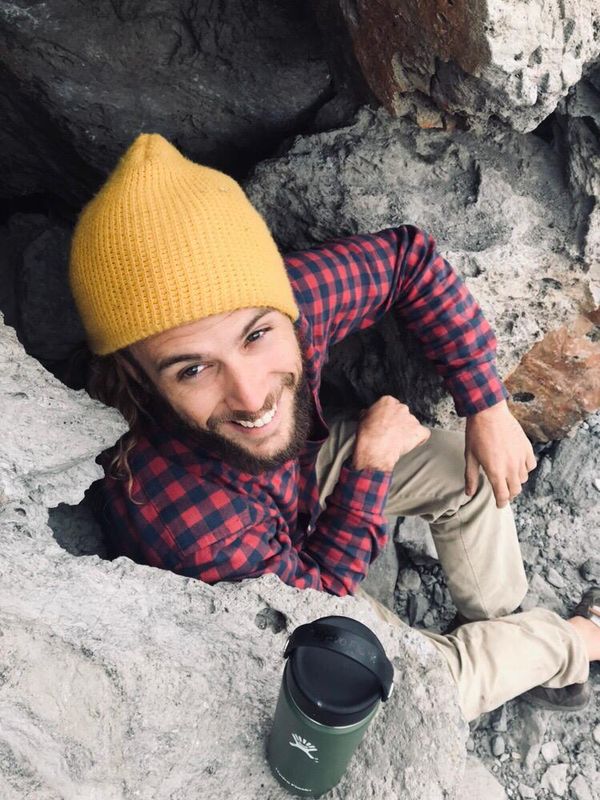 In my natural element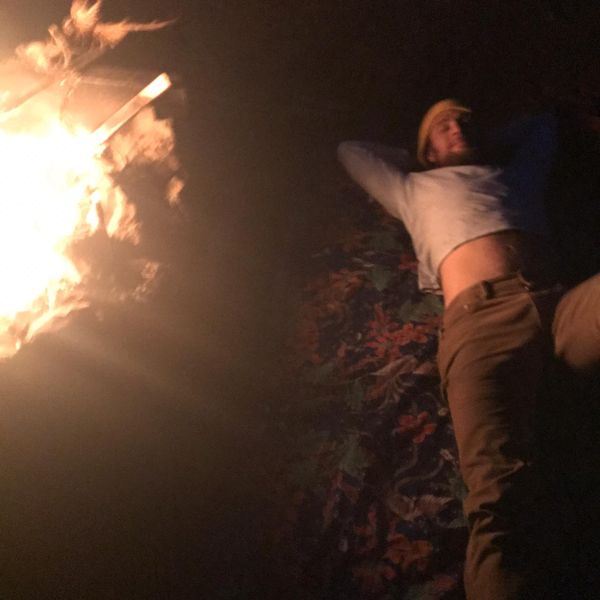 Camping under the stars in Deschutes National Forest

Volcanic Monument at Big Obsidian Flow
Crater Lake 
It's tempting to stay around Bend, but we're headed south towards the one and only, Crater Lake. Here's a heads up - it's super isolated and pretty much at the top of a mountain. I wouldn't plan to stay around the area unless you're a super dedicated outdoors person. 
In between Bend and Crater Lake are many tangents you can get lost in. On our road trip, we found ourselves staying for a night in a rustic cabin up and out at East Lake. We kind of landed there just through exploring and it was nothing short of magnificent. We intended on camping there until the campground host notified us that we were due for rain and snow that night. So much for our summer vacation road trip, I thought. It was super cold, but then again you're way up at the top of the Cascades. 

Crater Lake, Oregon
We scored the only cabin not reserved for the night, thank god. It did end up snowing and that wasn't something we were prepared for. So, be warned if you head into the Oregon hills that it gets cold once the sun goes down, even in summer. 
Now, once you hit Crater Lake you have some options. What I suggest is that you land on the North to West rim and find your way around to the restaurant gift shop at the high point. Have some lunch, kick it, and then make your way back down through the forest, over the river, and to the woods to Sunny Southern Oregon. 

National Forest in Oregon effected by Wildfire
Crater Lake is a must-see. I believe it's something like the deepest lake in the Western Hemisphere. I've been told that the place is notorious for people disappearing, and personally, if I was Sasquatch, I couldn't imagine a better place to live. Just keep that in mind if you're feeling like getting lost out there. 
In a few short hours, you'll be able to drive off the snow peaks on Crater Lake and down into sunny, Southern Oregon. Here you can venture around the rivers and valleys and have a few different options, but I'd suggest landing in Ashland. It's only about a stone's throw from the California border and the Redwood National Forest. 
Ashland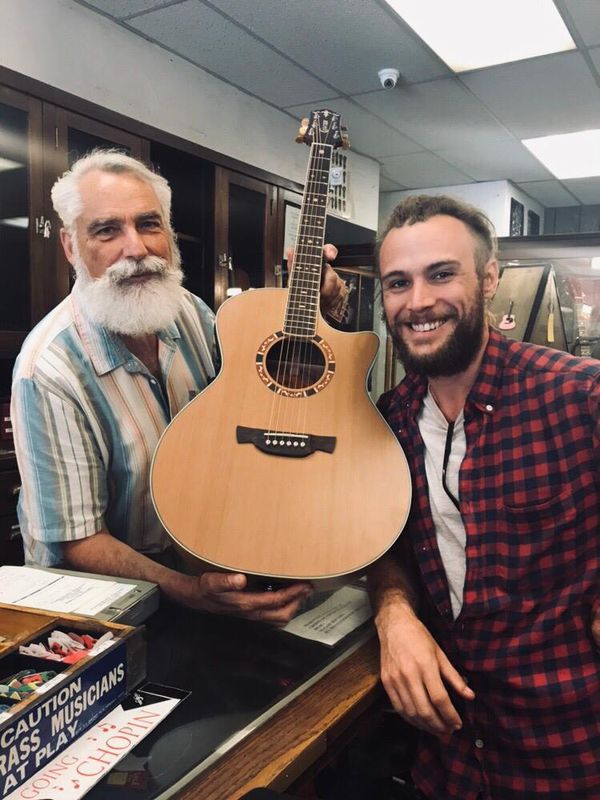 Bought a guitar at Cripple Creek Music in Ashland, OR. Now, they no longer exist. 
Ashland is one of my favorite spots to land in Southern Oregon because it's full of artistic culture, health and organic food options, live music, great food, and good craft brews. It's a beautiful little mountain town with a local university, brewpubs, and artisanal shops and markets. 
Ashland is home to the magical Lithia Park, which was built by the same architect that designed Golden Gate Park, or so I'm told by every proud Ashlandian. If you follow the park up into the hill, you'll discover what the locals call, "The Fairy Ponds". It's essentially what I know as a creek. You have beautiful little shade pools and rocks where Lithia Creek rolls into the town.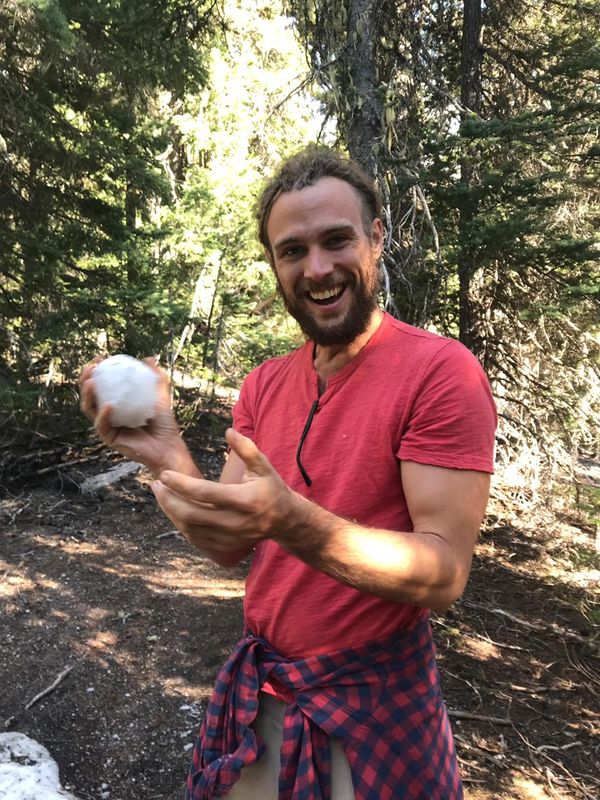 There you can find a little nook to relax in and cool off. It can get crowded at certain times though and just know that once you get far back enough on the trail, you're more than likely to run into some naked people. Just be cool and respectful, but remember you are in the woods just outside of town, anything could happen. 
There's a little town square, a couple of hostels, and the city makes a perfect base camp for hiking and mountain biking, or adventure exploring Southern Oregon and Northern California. Ashland can get a little pricey though, so load up on the essentials and pack it up. It's time to hit the road once again. 
Once you've had your fill of the sunny south, it's time to head to the beach. That's right! We're headed to the majestic Coast of Central Oregon. Full disclosure, this is where I first saw the Pacific Ocean.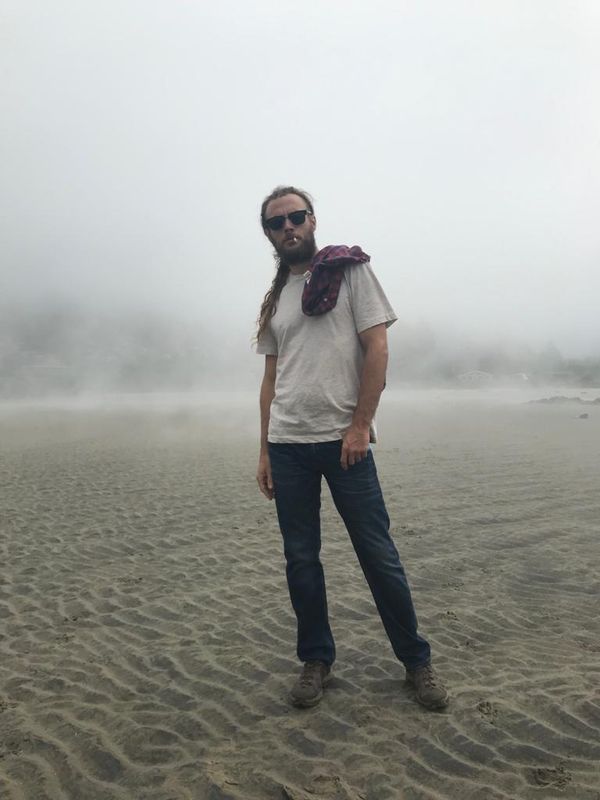 Yachats 
There are dozens of cool little spots you could stop and spend the day in along the Oregon coastline, but for me, none of them quite have the mystique that I found in Yachats. When you head towards the coast from Ashland or Southern Oregon you can go a couple of different ways. 
If you head southwest, you can get to the Redwood forests in around three hours. If you head North on I-5 and then West long before you get close to Eugene, you can be at the coast in a few short hours. We came out near Florence, which is a popular port town destination. It was a bit mainstream for us though, so we kept heading up the coast. 
We weren't sure what we'd find or if we'd like where we might be staying, but we kept going. We found the infamous sand dunes near the aptly named, Dune City. From the misty, sandy air of the place, we could hear the ocean, but could not yet see it. As you head north though, the topography again becomes elevated as the 101 highway turns into rolling bluffs full of wildlife, subtropical forests, sea lions, and an incredibly fascinating fog.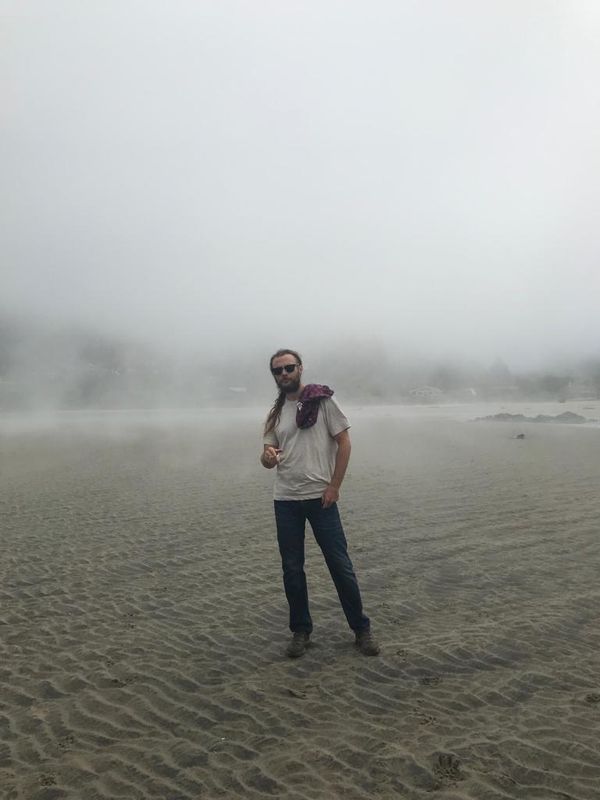 When we drove it, we went from seeing glorious sunset views of the ocean to seeing nothing but fog and mountainous terrain bathed in the western sunset's glow. It feels like driving through clouds, like flying. Then we landed in Yachats. It didn't seem like much and in reality, it isn't much. 
Yet this little beach town is full of magic. It's one of those little towns that have an energy about them. The kind of little town where artists find themselves holed up to create, or where seekers end up to find themselves. On a weekday, we found live music, art galleries, markets, and incredible brewpub food and drink. 
Near Yachats, you can find all you could ask for from Oregon. Hiking, cycling, beaches, camping, art, and more are all within arms reach. Why was this place so special to me? Beyond the magnificent smoked salmon and award-winning craft beer, and more than the fog-filled beach, I found myself having a spiritual experience here in the trails around this town. 
Before European settlers arrived, Yachats was home to several diverse indigenous peoples. Among them, a significantly advanced tribe called the "Yáxaiky", a tribe that practiced spiritual shamanism and was eventually killed off by invasive people. In my experience, you can feel the energy of this tribe in the forest there along the coastal areas. Anyone in tune with energy will be able to pick up on it. So, if you find yourself feeling a strange presence in the forest, say hello to the spirits there for me! 
Full Circle Into Portland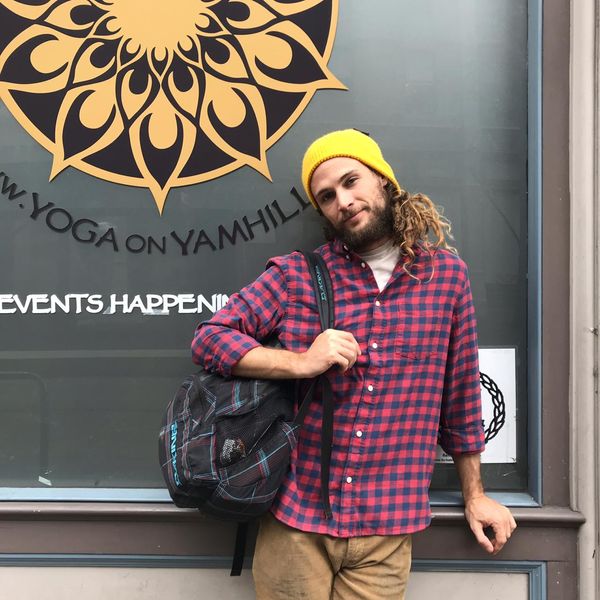 The coast of Oregon is absolutely spectacular, but you're probably pretty exhausted after a long week of road tripping, exploring, and adventuring. Take your time to cruise up the coast and enjoy the 101 highway. You could go all the way up towards Seaside and Astoria where you'll see Cannon Beach, The house from the Goonies' movie, Tillamook, and other cool places, or just cut East towards Portland at some point along the route. 
Now, after your big huge amazing road trip, take some time to kick it in the city and prepare for the next adventure. Clean up, organize, stock back up, and organize yourself. I guess if you're actually from Oregon or Portland you can just go home at this point. That'd be me, but it gets too cold and grey out there for too long. I'm more of a tropical, southern kind of guy myself. 
Thanks so much for joining us on the epic road trip. I hope you have a blast! Thanks for reading and if you've found this content helpful, then please take a second to share this article with others who might also enjoy it. You might also enjoy checking out some of my other blog articles too! 
I'm a full-time artist and author, and I'll tell ya', your support goes a heck of a long way!
Click here to download a song, donate, or just sign up for my free newsletter to stay up to date with my new releases of music, videos, blogs, and more! 
Until next time, family! Bless and a million thanks for your continued love and support!