5 Best Live Music Venues in Cabarete, DR 2019  
Explore the underground music scene of Cabarete Beach through the eyes and ears of a local artist. 

 
What's up everyone, thanks for coming by. I'm Aaron, a local indie musician, writer, and explorer. I'll be guiding you to the best places to experience live music in Cabarete.
Before we get going, I'd like to invite you explore my website where you can listen to and download my music for whatever price you like. I'd love to stay in touch with you too, so please consider taking two seconds to sign up for my brief monthly newsletter where you'll get personal updates about my new music, video, and blog releases as well as other ongoings and announcements in my world as an indie artist and cannabis journalist living in the Caribbean. 
Cabarete Live Music
What do I know about the local music scene and why can I guide you around town? Well, I've been a part of the local music scene here for over seven years.  
What is Cabarete? It's a unique little beach town on the North Coast of the Dominican Republic known to water and adventure sports enthusiasts for its beautiful wind, waves, sunshine, and of course, live music.  
Being here, I've learned a lot about music and culture, and I've met some incredible musicians who were just passing through too. Before I tell you about the best places to see live music in Cabarete, let me tell you this.  
Some of the most incredible and authentic "live music" that can be found around here isn't on a stage or a touristy beach bar. It's found in the local communities, outdoors, and at social gatherings.  
Live music performance is a prominent feature of Dominican culture. Cabarete is still very much a rural area and the creative musical energy of this island can be found in abundance here. People from all over the island come here to enjoy Cabarete's famous music scene. 
So, in other words, you can't experience live music in Cabarete without enjoying the authentic performances to be found outside of the beach bars and tourist attractions in places such as the beaches, in front yards, and out in the street. That being said, there aren't necessarily any "music venues" around town, it's more like bars and restaurants that feature live music.
However, that doesn't stop incredibly talented world musicians from this little beach town and abroad from coming through! Also, this list is limited to performing musicians rather than DJ's, which Cabarete also has plenty of really talented ones too. So without further ado, here's your list of the 5 best music venues in Cabarete for 2019.        Let's go!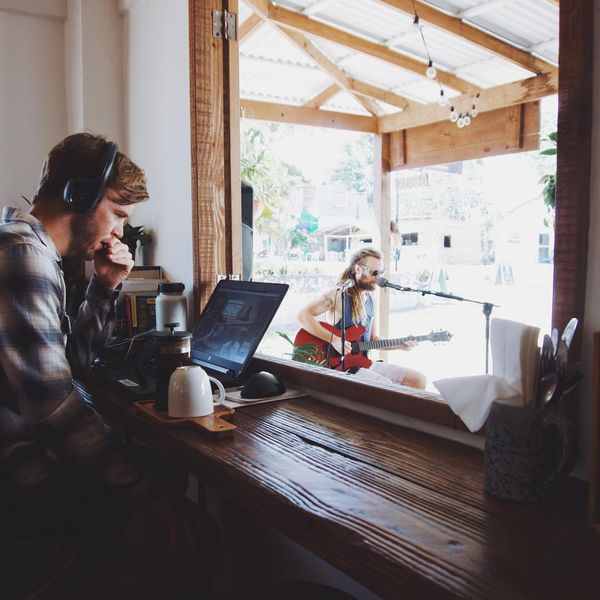 5. Vagamundo Coffee and Waffles

  
What started out as a little coffee and waffles café on the corner has blossomed into one of Cabarete's most popular and trending spots for tourists local and foreign.  
In the previous location, the stage, which was just a little wooden floor, was set up similar to a living rooming setting. It was very intimate.  
The new location is bigger though, and so is the stage! I've been performing every first Sunday of the month at Vagamundo's for quite a while, and it's always a pleasure.  
Usually, I'm playing music late at night in some smoky bar. Here, live music is from 10am-12pm on Sunday mornings. It's definitely a breath of fresh air to get a chance to play an early gig while people wake up with tasty waffles and good, strong coffee.  
Great spot for Sunday brunch and live music!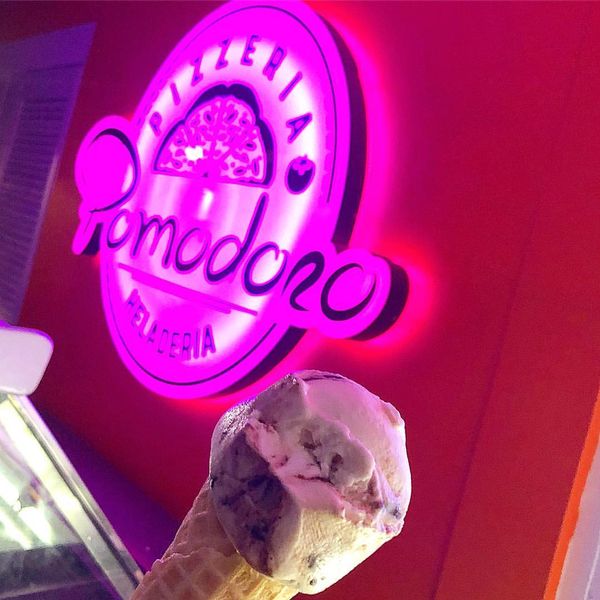 4. Pomodoro

  
One of the classic live music spots in Cabarete is the Italian Restaurant, Pomodoro's. It's right on the beach and every year the DR Jazz Festival happens right at its doorstep.  
They have had live music every Thursday for years, at least since I've been around. You can usually find an eclectic performer playing some type of jazz, roots, or folk music at a dinner-level volume.  
At other times you might be lucky to find a 5 piece band getting' down while you enjoy pizza under the Caribbean skyline. Either way, this is a great spot for Live Music on Thursdays in Cabarete.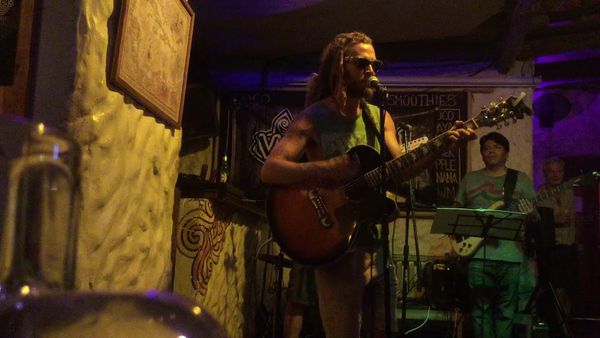 3. VoyVoy

  
VoyVoy Bar is a Cabarete live music staple and basically the local watering hole. Doubling as a windsurf school and beach bar, this venue has been going strong for a very long time.  
While they do host some various bands from time to time, they have one event in particular that has really taken off in the past few years. That's the Sunday night Open Mic.  
I've been co-hosting VoyVoy's Sunday Night Open Mic since I can remember with my pal, Lester Grant (grant, as in wishes, he says). I mostly play my Cajon and sing backups, but if there are no guest performers I'll play a few songs too.
What people really enjoy about this event is that you never know who might stop by. As well, we usually keep a gang of talented local house musicians hanging around that accompany our visiting performers.  
You're likely to hear music by people from parts of the world you've never even heard of. Many high seasons at this venue have seen really awesome and fun jam sessions, and as a host, I've had a great time over the years at this venue.  
Some people laugh and say that a lot of older folks like to hang out at the VoyVoy Open Mic night, and that's kind of true. We do have an older crowd that enjoys frequenting the event. But you know what? A lot of those old folks are out there having a lot more fun than some young people I know.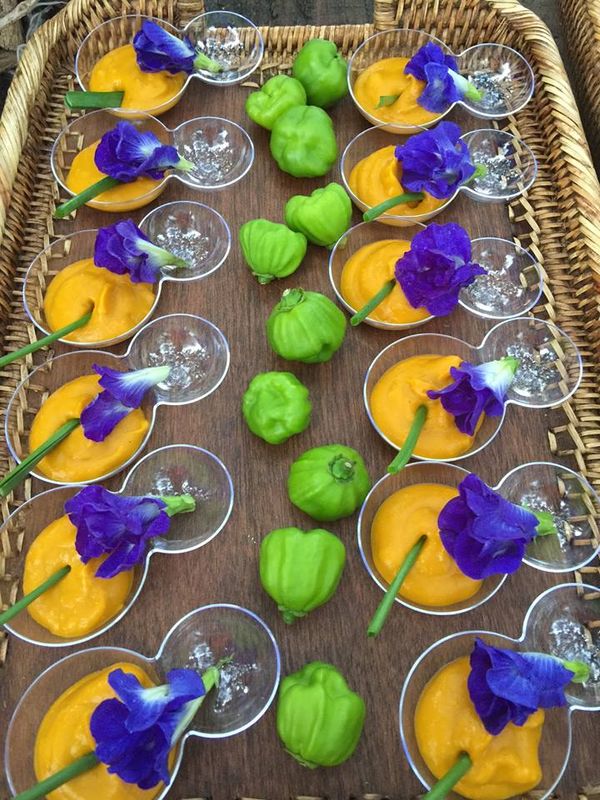 2. Villa Organica Full Moon Dinner Party

  
Number two on our list is Villa Organica's Full Moon Dinner Party at the Sea Horse Ranch.  
This is an event I've been a part of recently, and I absolutely love it. It's a unique event that takes place once a month on the Full Moon.  
A wonderful organic dinner buffet is prepared directly from the garden to the table, and we all eat community style underneath the stars and moon with no Wi-Fi.  
The event takes place under an old live Oak tree and in the middle of a horse ranch. The bathroom is in the stables and you get to pass and say hello to the horses. And while this isn't exactly a "music venue" that hosts bands regularly, we create live music at every event. For me, it's one of the nicest places to experience live music in Cabarete. 
I set up and play improvised instrumental loops there while sipping some moonlit wine, keeping it at a very chill vibe. I usually keep it in the lo-fi, ambient, hip-hop, jazz, neo-soul realm for this event.  
We do it every month and if you're ever around town, we'd love to have you join us, but make reservations ahead of time as this event is sold out for the next two Full Moons!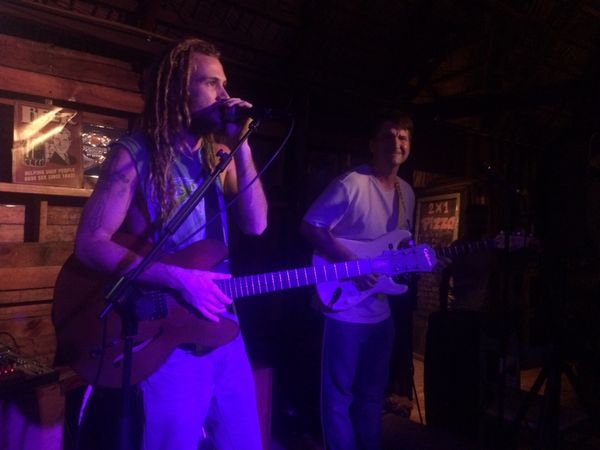 1. La Chabola

  
Finally, the number one best venue for live music in Cabarete is La Chabola!  
There is a cult ritual in Cabarete. Every Wednesday night means going to La Chabola Open Mic night in the Callejon de La Loma. The Callejon is one of Cabarete's most popular local neighborhoods. Sitting just a few blocks into its entrance, at the only streetlight in town, is this humble, little bar with authentic brick oven pizza with hand-made dough.  
I've been hosting Open Mic at La Chabola in Cabarete for years now it seems. I can't really remember how long it's been now. I've been working the event at the same location since before when it was under another name, Voodoo Lounge.  
This venue has pretty much what could be called the only real live music stage in Cabarete. It actually has a raised stage with some special lighting, which is different than the typical emptied corner of the bar where some tables typically sit, and is what helps La Chabola get to number one on our list.  
I'm honored to have been running the Open Mic at La Chabola with a lot of success over the years. The 2018-2019 season has been just incredible. We've met all kinds of talented people from all over the world who've come through to share their own musical medicine with us.  
Here I'm usually playing percussion and running the soundboard, but when there are no other performers, I get up and do my thing, along with a gang of very talented world musicians that haunt the joint. What I like about playing in La Chabola is that people are there to actually hear the music, mostly anyway.
Instead of playing to people who are just trying to talk or eat dinner, there is an audience hungry for art and energy, and I think the performers and the audience can feel that.  
Another reason that La Chabola made it to number one on this list is that this is the only venue around here where you can really get a little bit loud and jam out, which is what a music venue is supposed to be for anyway, right?  
You can find great bands around La Chabola on the weekends, but if you want to blend in with the locals and the underground scene full of artisans, creatives, y locos, Wednesday night you go to the Open Mic at La Chabola, hosted by yours truly.  
Thanks for Reading

  
Thanks for reading! I'd love to hear from you. What are your thoughts on the live music scene in Cabarete? Leave me a comment in the discussion section below and let me know what you think.  
If you enjoyed this article, then please share it with others who you think will also like reading it.  
While you're here, why don't you listen to some of my music or check out my YouTube Channel or Social Media linked below?
Want to stay in touch with what I'm up to and get updates on new music, blog, and video releases? Sign up for my brief monthly newsletter and never miss a thing. 
Thanks, family! 
All things connected. All beings respected.