A traveler's guide to the best yoga friendly vacation spots in the Dominican Republic. 
---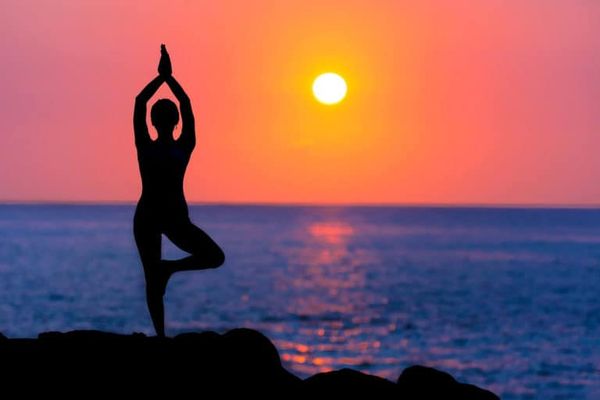 Share this with yogi adventurers and use the new hashtag #YOGAinDR. You can tag me at FB @aaronmatthew.love  IG @aaronmatthewmusic. Support for this work is gratefully appreciated: make a donation, download music, or subscribe. Thanks!
---
Yoga Adventures in the Dominican Republic
With so many Yoga events cancelled in 2020, yogis in the US are itching to stretch out and reconnect.. 
While US citizens are limited on international travel options, there's still one tropical getaway destination open for travel and it's not very far away. The Dominican Republic!
Called the DR for short, the island's North Coast is quickly becoming the hottest spot for Yoga in the Caribbean! Read this guide to find out why.
Are you a yoga traveler? Whether you're seeking a yoga-friendly vacation in paradise, an intensive yoga teacher-training course, or a custom Caribbean retreat tailored to health minded yogis, there's something for everyone in this guide. 
Use this article as a resource to finding the best yoga spots on the North Coast of the Dominican Republic. At the end of this article you'll get useful info about airports in the DR, so be sure to read until the end. 
Yoga in the Dominican Republic

 image by caribeyoga.com 
Why the North Coast? That's where all the fun is! Punta Cana is more about all-inclusive vibes and the capitol, Santo Domingo, has more of "big city" energy to it. 
The North Coast offers a special place away from all that chaos that's perfectly suited for yoga getaways, soul seeking out in nature, and relaxing tropical beach time.  
Need more reasons to visit? It's affordable. It's a tropical paradise. The people are very nice. The exotic fruits are delicious. There's wind, surf, sun, mountains, and as you'll soon see, a bounty of yoga adventuring possibilities.
Almost every little hotel or resort place is going to offer some level of yoga and massage to their guests, but just because there is room to stretch doesn't make a place the perfect yoga getaway. 
This is your guide to help sift through the cookie-cutter offers and go directly to the places specifically catering to yoga travelers and adventurers. 
Anyway, let's get to what you came here for. Without further ado, here are the best yoga resources for the North Coast of the Dominican Republic! 
Yoga Classes and Yoga Studios in the Dominican Republic 
This category includes places where yoga classes are held. Most are combined with a hotel, but not all. Check back frequently for updates to the list. 
The Yoga Loft @ eXtreme Hotel 
Facebook: @TheYogaLoft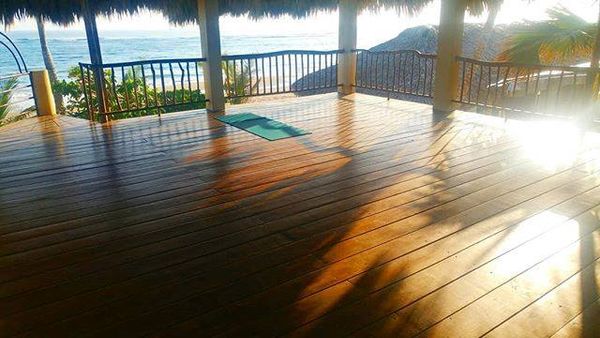 The Yoga Loft is a small beachfront yoga spot inside the eXtreme Hotel. It's picturesque to say the least and many yoga travelers have enjoyed this secret spot. 
It's built with tropical hardwood floors and decorated with mandala murals, and has a spectacular ocean view. The hotel has a nice gym, pool, restaurant, and even gives organic farm tours. 
Hotel Villa Taina Yoga Loft 
Facebook: @hotelvillataina
Website: www.villataina.com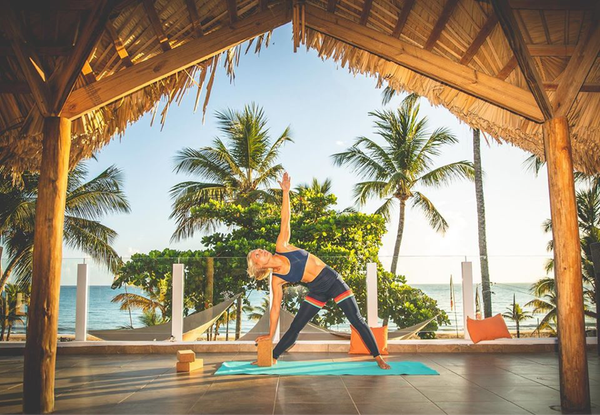 A boutique hotel in Cabarete, Hotel Villa Taina, offers guests a wonderful beach front vacation spot equipped with a lovely yoga loft. There are usually weekly classes available for hotel guests and non-guests, as well as an in house massage therapist. 
This is a great spot for yoga sessions and classes and it's so close to the ocean that you can hear the waves. Perfect for morning yoga before relaxing on the beach or kite surfing. 
Get your session in early though. Sometimes this spot can get a little noisy with the restaurant and beach front below, but it's not a deal breaker. 
Encuentro Yoga Studio 
Facebook: Encuentro Yoga Studio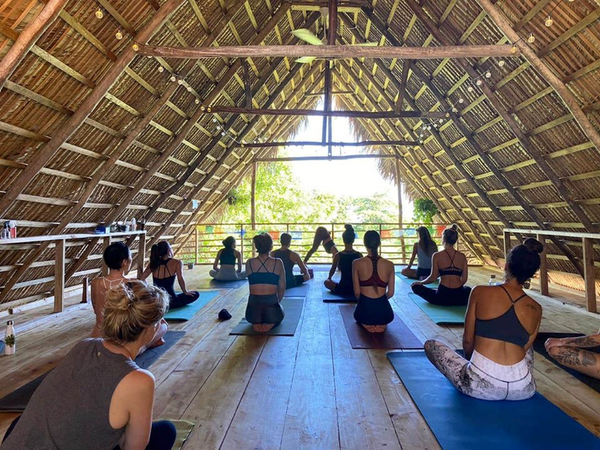 Encuentro Yoga Studio is a wonderfully rustic loft made for yoga classes. Located in the surfer haven, Playa Encuentro, this is a newer spot perfect for surfers staying in Cabarete, Sosua, or Encuentro. 
It's a great spot for pre or post surfing stretch out sessions and is just a walk away from the beach. 
It has no hotel connected with it, but below the yoga studio is a nice little bakery café. It's about 5 minutes from Cabarete and two minutes to Playa Encuentro. 
The Body Temple 
Facebook: @Thebodytemplecabarete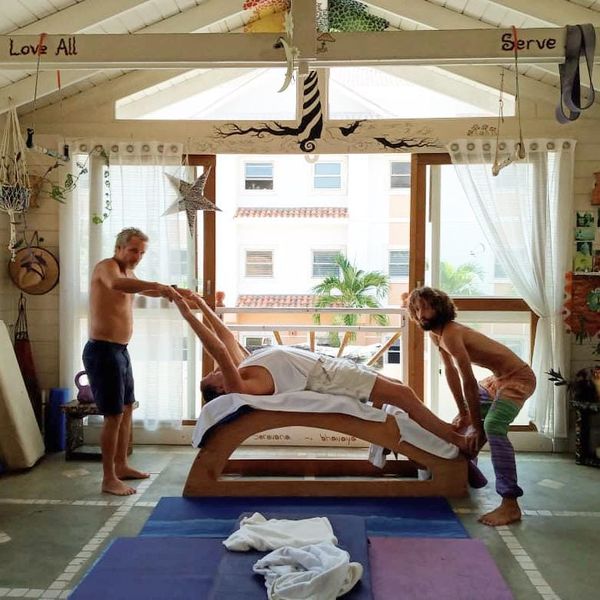 At The Body Temple, they fix humans. Plus, they also offer yoga classes with great teachers as well as varied health, fitness, and nutrition courses/events throughout the year. 
It's complete with unique mandalas, meditation-friendly décor, energetic vortexes, and even an air conditioner. 
The Body Temple is located in Cabarete inside of a small, beachfront gated community called Ocean One above a boutique café called The Honey Company. 
Natura Cabana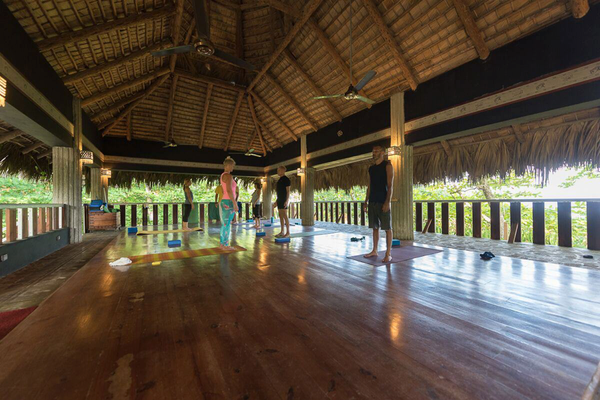 A gorgeous little eco-resort, Natura Cabana has one of the most amazing yoga spots ever. It is a broad covered deck area with wide spaces, wooden floors, lots of airflow, and decorated with a tasteful Buddhist bohemian chic vibe. 
Natura Cabana has nice little cabins to stay in, a restaurant, pool, and is on a mostly private beach. It is located inside a small and peaceful gated community called Perla Marina about 7 minutes from Cabarete. 
The Yoga studio at Natura Cabana hosts different teachers, retreats, and classes throughout the year, and it is a definitely must see for the dedicated yoga traveler. Great spot for yoga and meditation! 
Cabarete Beach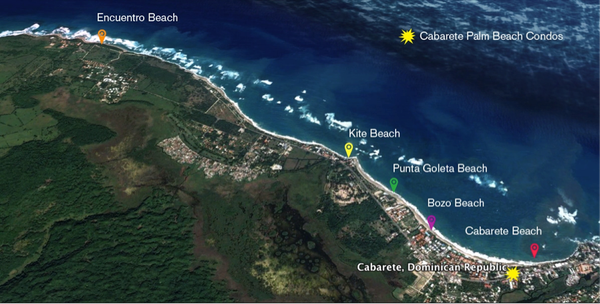 I'm throwing in this public beach because it's where I spend a lot of my yoga time. It's pretty hot during the day, but mornings and sunsets make this beach a magical spot for yoga and meditation. I'm including it as a reminder that nature is often the best yoga studio. 
Yoga Teachers and Healing Artists in the Dominican Republic 
It seems every year or so a new wave of adventuring soul seekers finds their way to the North Coast. Many of them are yoga teachers and spiritual journeyers. Some stay just for a short time, others never leave. 
The coast has been blessed with many talented yogis, guides, mentors, healers and other types of energy workers. 
The following is just a short incomplete list of the spirits you'll find here offering yoga classes, courses, retreats, and more. Remember, not all, but most, of the folks on this list are yogi adventurers like yourself, which means they might be out of the country at some point during the year. Check back frequently for updates to the list. 
Grace Mazzucco 
Facebook: @massagetherapyandyoga
Website: www.savinggracewellness.com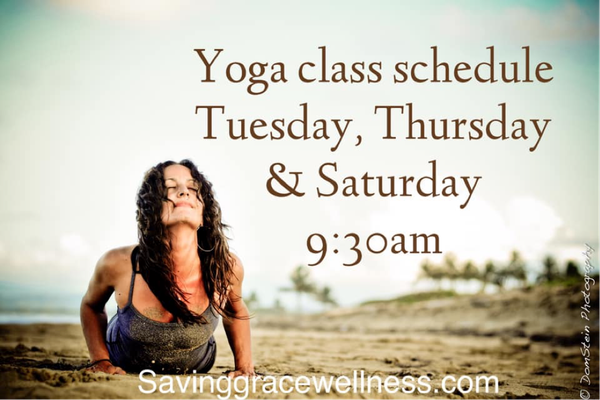 Grace is a long time yoga pro and adventurer to the DR! Not only does she host regular yoga classes when she's in town, but she's also a talented massage therapist. Check out her website and social media to see when and where she offers classes and massage.
Alexandra Ruiz 
Connect with Alexandra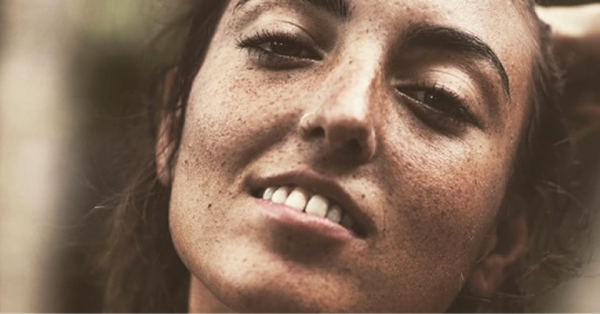 Alexandra is a powerful soul here to bring healing to the world. She's traveled far and trained with the best. She offers yoga classes, various types of massage therapies, and has a weekly schedule of offerings available. She's always involved in some kind of awesome surf, yoga, and meditation events so link up if you're in town.
Audrey Meyer Coaching 
Connect with Audrey

Audrey is a powerhouse provider of health, wellness, fitness, water sports, yoga classes, courses, and retreats. If you really want to dive in deep into every aspect of health and wellness, Audrey will be there for you! 
She's another long time pro on the North Coast and even offers an entire catalog of online courses for the health, mind, and body conscious folks out there who want to join remotely. 
Ella Gjerdrum 
Connect with Ella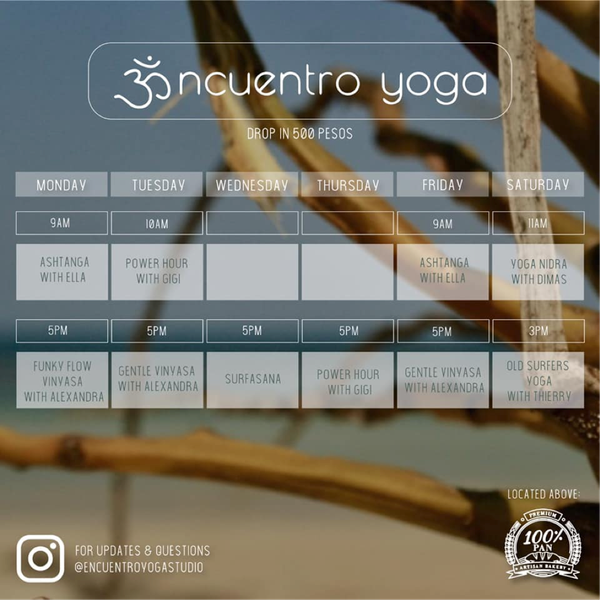 Ella is a local yoga teacher and beach lifestyle enthusiast. She hosts regular classes at Encuentro Yoga Studio and other spots. You're likely to catch her surfing, snorkeling, or at a local pop up bikini sale in town. 
Anett Kovacs 
Connect with Anett
Instagram @fitlifeanett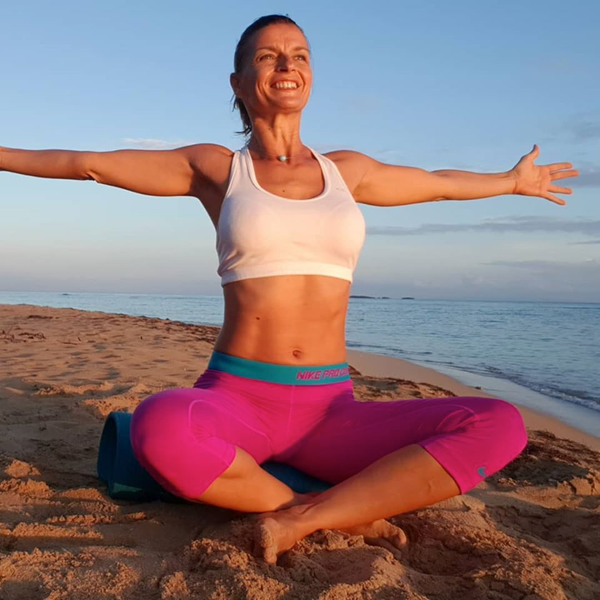 Take a trip east to enjoy a far out destination on the North Coast in the gorgeous, Las Terrenas, and visit Anett Kovacs. Breathtaking Caribbean views, hidden beaches, and jungle adventures are a part of every day life at this spot. 
Annet offers unique and custom fitness health experiences in Las Terrenas related with yoga, health, fitness, and adventure. Connect with her for more info. 
Sabine Schnatz 
Facebook: @houseofshiatsu 
Website: www.houseofshiatsu.com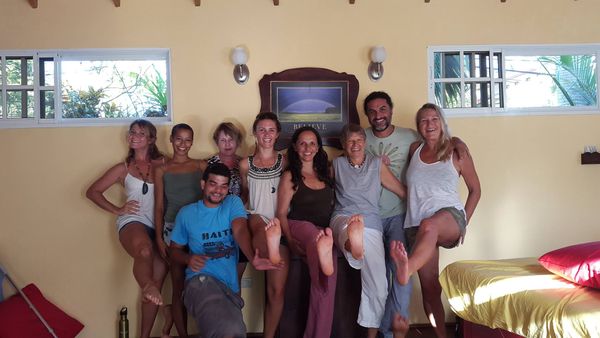 Sabine is a wonderful healer and energy worker with her own private studio. Her primary focus is shiatsu and energetic massage work, but she also offers various types of yoga-oriented courses covering chakras, massage, breathing, reflexology and more! 
Her studio is located inside of a small, gated community named Perla Marina just a few minutes from Cabarete. 
If you can book an appointment with Sabine, you won't regret it. She truly knows how to help move those emotional mountains stuck in the body. 
Johannes Linstead 
Connect with Johannes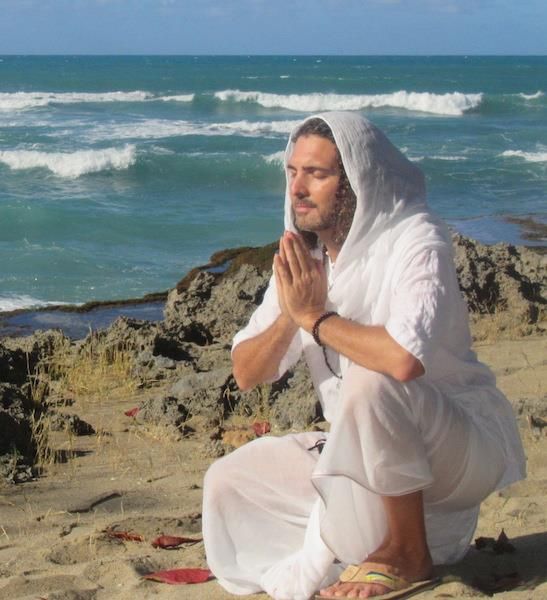 Coming in with the male yogi energy is long time spiritual adventurer, musician, master teacher, author, and yogi, Johannes Linstead. 
Also known by the label, yogi Sevaji, Johannes offers exclusive and private weeklong retreats filled with self-discovery and spiritual bliss in the topical paradise of the Dominican Republic. 
Johannes is a certified Kundalini yoga instructor, Qi Gong practitioner, martial artist, and Reiki Master. You can check out his offerings in the link above. 
Yoga Teacher Trainings, Retreats, and Yoga Friendly Villas in the Dominican Republic 
This is a short list of Yoga teacher trainings, retreats, and yoga-friendly villas on the North Coast of the Dominican Republic. Check back for frequent updates! 
Sthira Chitta Yoga Intensive Teacher Training Course 
Connect with Seba Yoga and Bhakti Raval Yoga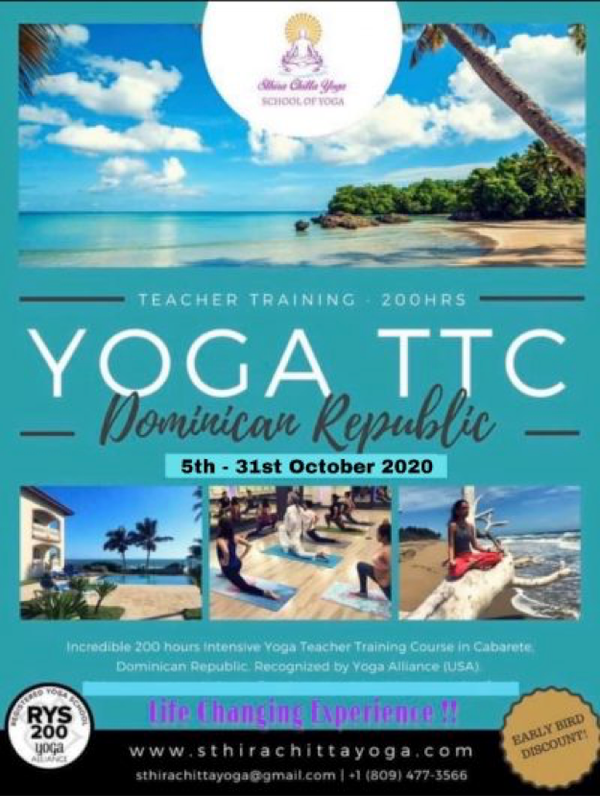 Still looking to finally take that yoga teacher training course you've been dreaming of? Do it in less than a month while in paradise. 
Sthira Chitta Yoga is bringing their intensive 200-hour teacher training retreat to Cabarete and you won't want to miss it! 
October 5th-31st in Cabarete.  
Yoga Kite Camp 
Connect with Chrissy Lefavour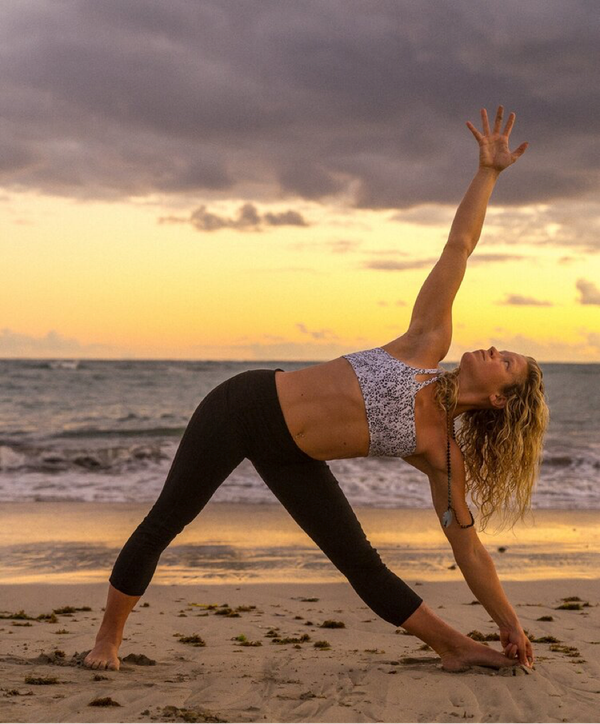 Yoga Kite Camp is a cool spot in Puerto Plata where you can get in your yoga session along with your water sports adventures. They combine IKO kite surf classes along with challenging yoga classes. 
They also host various yoga related events throughout the year such as retreats and teacher trainings that you might want to get in on. 
Yoga Life Villa 
Facebook: @yogalifevilla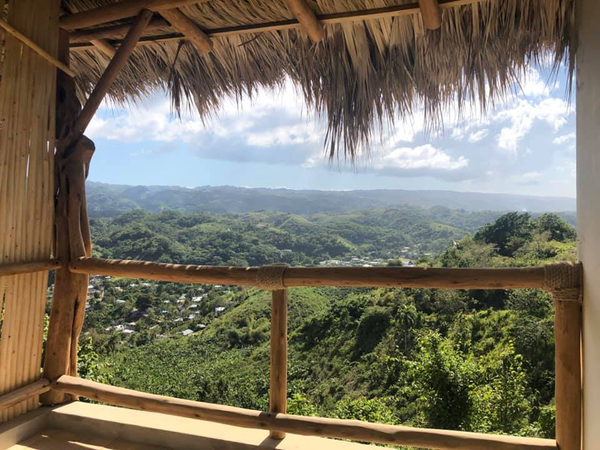 Yoga Life Villa is an all new under construction villa dedicated to all things yoga. They've been documenting the construction of their yoga studio and you can see the breathtaking views on their social media. 
Located way east down the North Coast on an isolated peninsula, this stylish villa is tucked away in lovely Semana, Dominican Republic. They intend to host retreats, classes, courses, and of course luxurious getaways – after all it is a tropical villa in paradise. 
El Mirador al Mar 
Facebook: @elmiradoralmar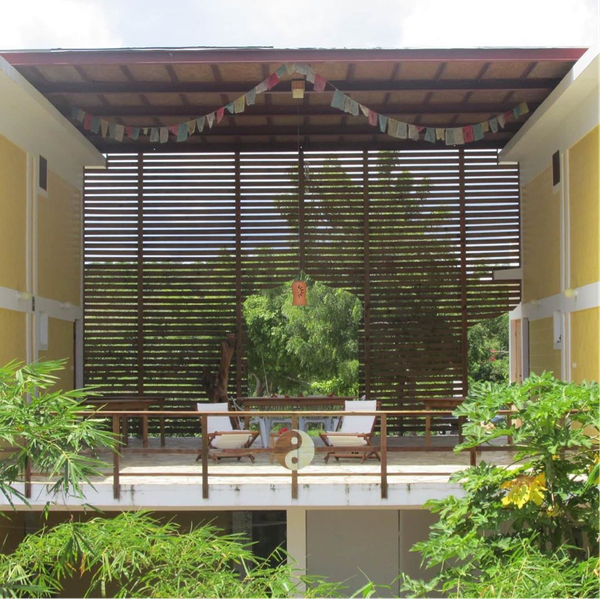 Situated high up on the hills overlooking Sosua, El Mirador al Mar is a yoga friendly bed and breakfast style private villa that is perfect for a peaceful escape. They are super into yoga and meditation and it's very affordable for what this gorgeous hideaway spot offers. 
You have to see the photos on social media because words just won't do it justice. This is a great pick for a romantic or even solo getaway to tropical meditation paradise. 
Shiva's Cave Yoga Retreat Center 
Website: www.shivascaveyogaretreat.com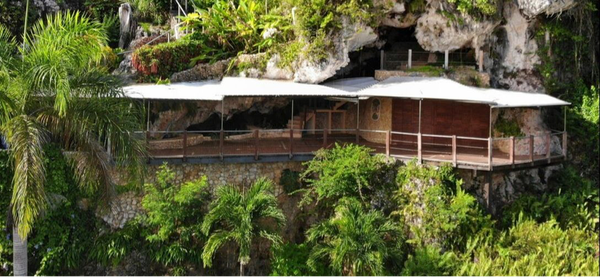 A hidden gem and well-kept secret among yogi adventurers, Shiva's Cave is a dedicated yoga and meditation retreat center built into a natural limestone grotto. 
It's a part of Monte Placido vacation home rentals and is located in a gated residence in Las Terrenas on the Semana Peninsula. 
It includes a spacious wooden deck fit for up to 25 yogis and is stocked with mats, blankets, belts, and a lyengar style rope wall. It also includes an upper level designed for social gatherings and meditations. 
Caribe yoga
This is a very nice boutique hotel in Semana, Dominican Republic known for its yoga resort and eco-lodge vibe. The yoga loft available to guests is spectacular to say the least. Just look at that view! Add this one to your list of Semana getaway spots.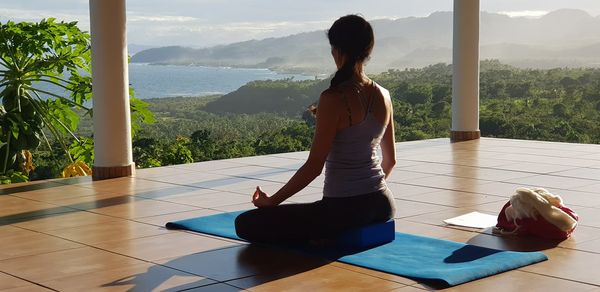 Find Your Self in the Dominican Republic 
I hope this resource is valuable and serves you well in your adventuring. 
There's no doubt that I left something out and there will certainly be more yoga offerings coming to the North Coast soon. So be sure to check in for updates frequently. 
Please share this resource with others that you think would find it helpful.
You can also leave me a comment in the discussion section below and let us know what you think! Below you'll find some helpful information about flying into the Dominican Republic airports
Covid Testing in Dominican Republic Airports
Will they test me for Coronavirus at the airport in the Dominican Republic?
Recently, arrivals without a certificate of being tested negative for Covid were required to take a "quick test" in the airports in the DR. It's unclear whether that protocol is currently being used at the time of this writing, or what the protocol for testing positive in the airport might be. 
Check with the US Embassy in the Dominican Republic for up to date information on travel requirements. 
US Citizens Traveling to the Dominican Republic
Do US Citizens need a visa to travel to the Dominican Republic? No, US Citizens only need a passport to travel to the DR. US travelers are granted a 30-day tourist visa automatically. Technically, you can ask for an extension of the tourist visa for up to 90 days. Most travelers choose to pay the overstay fee at the airport when leaving the country instead. 
Airports in the Dominican Republic  
Puerto Plata POP Airport  
Puerto Plata is a busy little town with a small airport just outside of the city. It's often more expensive to fly into POP from the US, but the next closest airport is two hours away.  
There are always Taxi drivers waiting outside and if you like to plan ahead it's fairly easy to have someone pick you up. It costs about $15-$25 for a taxi ride from POP to Cabarete.  
From the POP airport it's only about a half an hour to Cabarete, the island's best spot for yoga, water sports, and beach nightlife.  
Santiago STI Airport  
Santiago airport is about a two-hour drive from the Cabarete on the North Coast. STI is a chill little airport just outside of the city, and there are always Taxis available.  
It's affordable to fly into STI, but if you're headed North you'll be paying an extra $80-$100 US for a taxi ride to get there.  
Santo Domingo & Punta Cana Airports  
Santo Domingo is the capitol city of the Dominican Republic and it's a pretty big one.  
It's worth the trip to check it out and experience the city, but when you're done take the 4-5 hour trip to the North Coast to enjoy some peaceful energies.  
Punta Cana is located on the eastern coast of the island and has plenty of all inclusive package hotels that probably have a yoga class or two. Honestly though, if you're a yoga traveler, you'll have more fun on the North Coast. 
About the Author 
I'm, Aaron, an indie musician and writer. I've been into yoga and meditation since around 2011.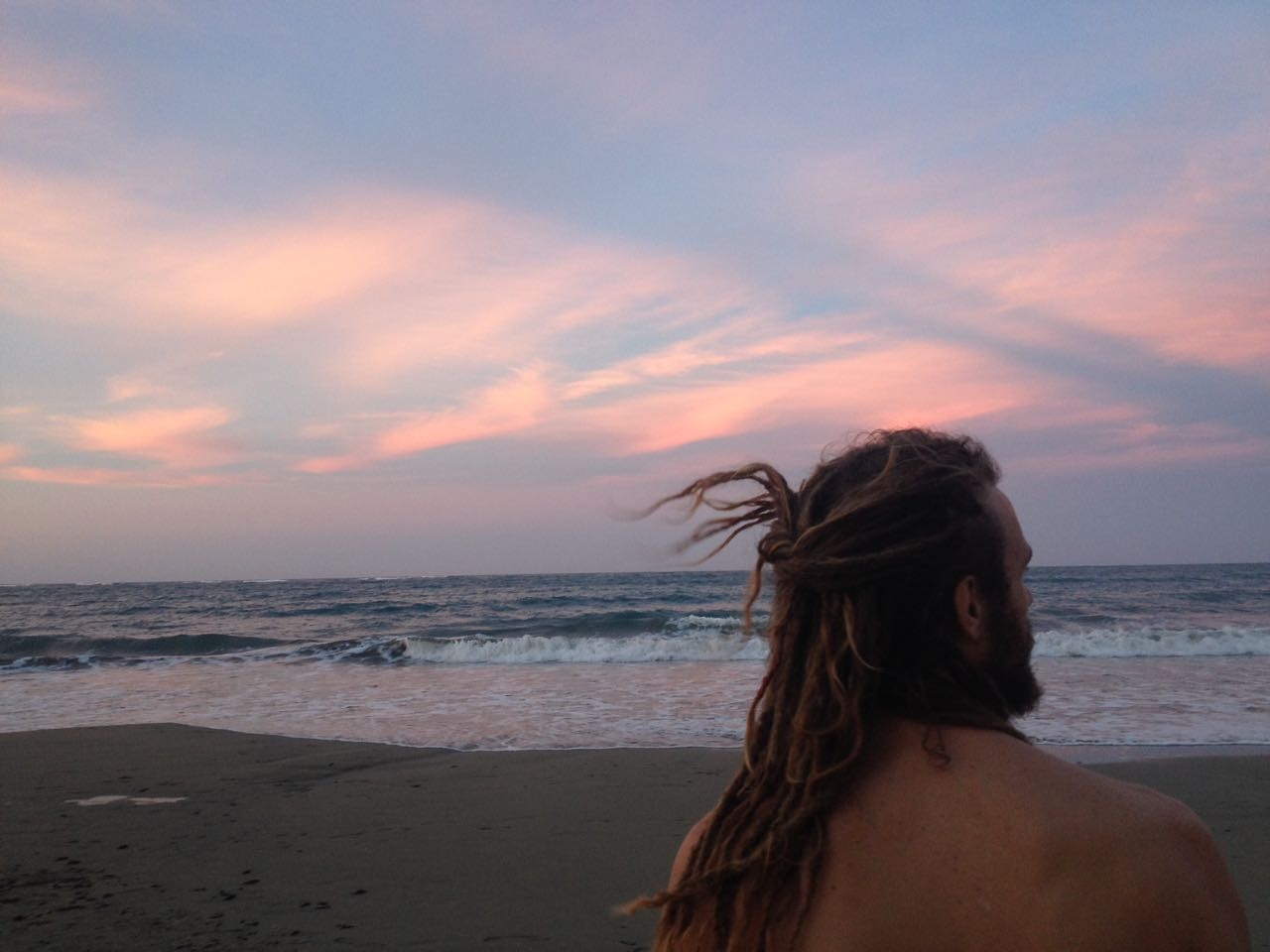 Although I've been "in and out" of regular practice over the years, yoga and meditation have proven to be solid tools that help me to regain centeredness and perspective in my life. 
Since 2012, I've spent most of each year in a little beach town on the North Coast of the Dominican Republic called Cabarete. 
How'd I end up on the island? It all started when I sold everything I owned (except for the guitars) and accepted an invitation to do a work exchange on an organic farm on the North Coast of the country. 
I bought a one-way ticket to a foreign land where I didn't know anyone or speak the language. Pretty crazy, huh?  If you want to learn more about my personal adventures, you can read about more here in my blog. 
Thanks again for reading! Follow me on social media for more blogs, videos, and content like this.
If you want to help support content like this then please consider supporting my work by making a donation, downloading music, or subscribing to my live stream concert series.
Thanks and many blessings! 
Namaste :)