My Year-In-Review 2019
Hey friends, how are you? 2019 has been nothing short of a wild ride and if you haven't been following the journey with me, this article will recap some of my favorite highlights from this year. I've done quite a bit this year. So much so that I had to go back through social media and photos to remember how the year started. 
On Stage & In Studio Winter 2019 
In Jan/Feb/Mar I was running the usual circuit of local shows in Cabarete, DR, performing mostly solos and duos, running two weekly open mics, and of course, working my day job as a freelance cannabis writer. 
During those first few months of the year, I was formulating some plans and goals for the rest of 2019 and trying to get better at recording my live shows. I recorded a handful of live gigs and shared what came out well enough on YouTube and Sound Cloud. 
Next, I hit the studio with my buddy Mike Freed (aka FreedM) and we made our stripped-down acoustic guitar and harmonica EP titled after the name of our live music duo, "Bottles and Blues". 
We had fun writing our original tunes like "Mudcake Boots Blues" and "Mystery". Poor Mike was suffering some dental issues during the whole process, but he powered through my vision to produce the collaborative songs to fruition. 
You can read my "Bottles and Blues" blog articles that document the behind-the-scenes story of the making of the album here. 
Creating & Traveling Spring 2019 
By the time the end of March came, as usual, I was pretty burnt out from the high season workload of performing four or five nights per week, on top of writing every day. I had been pretty focused on my work, but had let my self-work slide and needed some battery recharging. 
Wifey and I were able to escape on an adventure to Jarabacoa in early April, an elevated region in the inner area of the Dominican Republic. We spent some time in nature exploring waterfalls, refreshed in the rivers of the mountain, and returned to Cabarete feeling lovely and reenergized.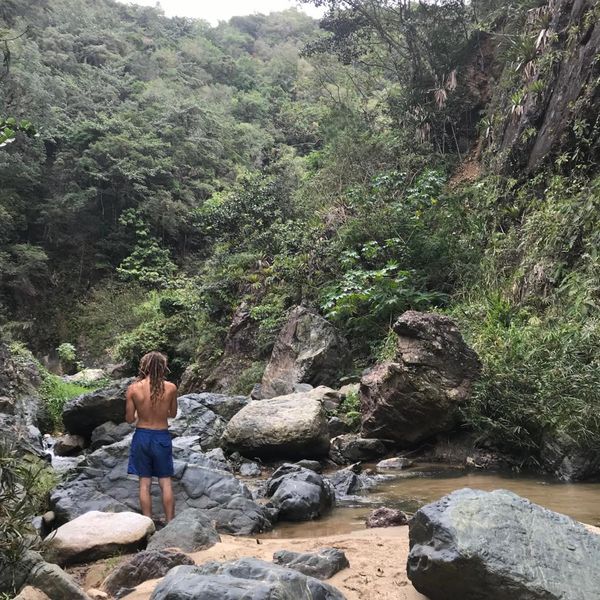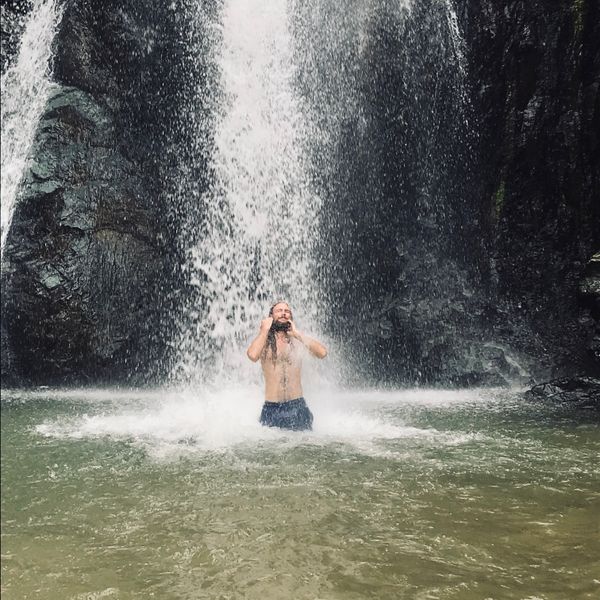 Then, it was back to the daily grind, but since the season was dying down it was a bit less grueling to keep up with it all. Our little escape to the mountains helped me to reorganize my thoughts to prepare for the rest of the year. 
I spent April and May finishing up the post-production of the "Bottles and Blues" album. At the same time, I was also writing/recording another album, and my most recent release, "BEND".  
My music goals at the time were to finalize mixing/mastering the "Bottles and Blues" EP, then move on to finish producing "BEND", and then start recording my next batch of songs. I was happy to finish and release the blues album in early June, around the same time as the one-year anniversary of my 2018 debut album release, "Steppin' Stones". 
It was about the same time last year that I also got back into the gym and lifting weights. Most of my twenties had been spent doing more yoga and meditation than trying to make muscle gains. In fact, over the past few years, I had lost a lot of my mass due to some tropical parasites, stress, and life in general. My metaphysical game was strong, but my muscles didn't match. 
I wasn't happy with who I saw in the mirror and needed to feel stronger and better about my body. I have had some minor setbacks since then, but I am happy to say that I have mostly maintained my consistency in working out, anyway, more about that part of my life another time. 
On top of all this, I was gearing up to go on my 2019 US summer tour, which was mostly spontaneous and unorganized, but I was able to check off some important life goals on that trip. My main goals were to visit some family I haven't seen in a long time, particularly my mother and grandma, and play some gigs in new places along the way. 
I spent countless hours sending off e-mails to venues, bands, and other contacts that could land a gig for me at a cool venue or opening for a fun band. 
In the end, only about 5% of my messages were replied to. Mostly just to say they were all booked up. Honestly, I waited too long to try to book anything decent anyway, but to my surprise, everything panned out perfectly, despite my lack of planning. 
I was a bit nervous about the tour, which is what not being well planned often looks like, but a moment of motivation happened one day after a Sunday morning show at a local café in Cabarete. 
A traveling photographer and model, Ryan and Mia, were at my show and enjoyed my music so much that they wrote to me on social media later that day. They were on the island filming a promotional video for Mia's new line of fashion accessories with Urban Outfitters and wanted to use some of my music for their video! 
I was super flattered and honored. The video they made is nice and they ended up using one of the live tracks I recorded earlier in the year for their video, which you can watch here. 
Right after the "Bottles and Blues" EP released in early `June, we set off on the first leg of our US tour trip to the Pacific Northwest. Wifey joined the travel to Portland, OR to visit my sister. 
We love Oregon when it's not cold and rainy. Although I tried to land some last-minute shows in the PNW, I didn't get any gigs on the west coast. It didn't matter though, because we still had the time of our lives road-tripping Oregon in a rental car and camping. 
It was another unplanned, spontaneous and magical trip. We spent a week traveling throughout Oregon and it was nothing short of spectacular. Every day the amazing natural scenery wowed us. I documented our trip in a blog article with pictures. You can check it out by clicking the photo here.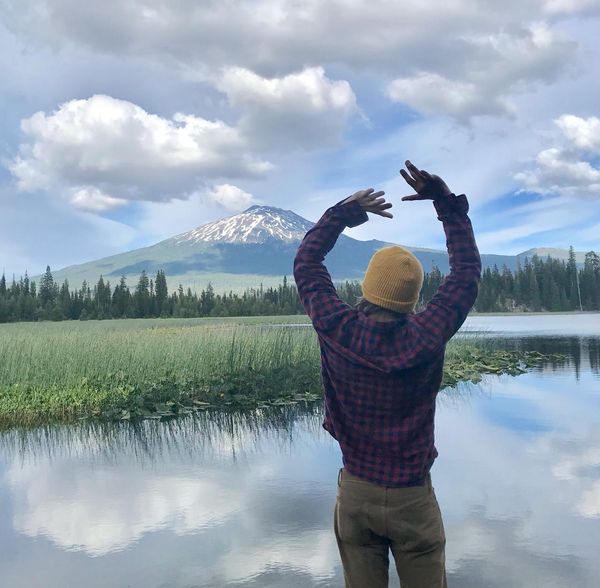 After we returned to Portland, Wifey had to get back to the DR for work and I stayed a little bit longer with my sister. I was catching up on my writing work and continued to try to land gigs on the east coast. My time in Oregon was like a little gift for working hard all season in the DR. I ended up getting a new acoustic guitar, a new mac, and a mountain bike in Oregon. All of which were worthy investments, including the road trip!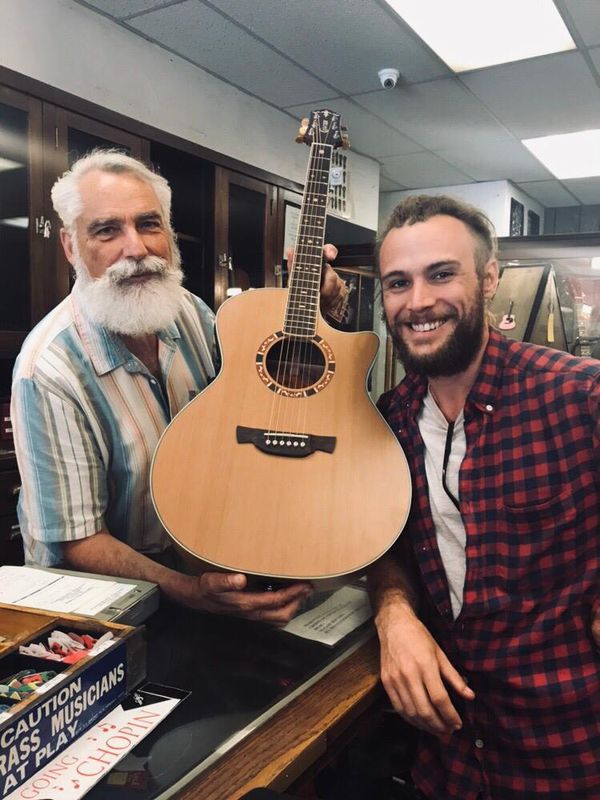 I spent July 4th by going to the Waterfront Blues Festival in Portland alone and then headed to Jacksonville, Florida to visit my mother and to begin the second leg of my very unplanned US tour. 
Florida / Georgia & "BEND EP" Summer 2019 
Now, we've made it more than halfway through 2019! 
My original intention was to hit the east coast and buy/rent a car to tour along the East Coast and Gulf Coast regions. I thought for sure I'd have at least a few good gigs lined up along the route between visiting family and friends, but I didn't have much of anything at that point. After spending time with my mom, I left Jacksonville for my old stomping grounds in Savannah, Georgia. 
Luckily for me, I still have some friends there that haven't forgotten me. I landed at my best friend and former band mate's house to temporarily visit. I told him I'd be on my way soon as I had some gig lined up. The tour never really panned out as hoped and I ended up staying with my friend for most of July and August. 
Honestly, we had a great summer together and I needed some quality friendship time in my life. Living in a foreign country is hard and friendship has always been difficult for me, so I am super grateful my friend didn't freak out on me for staying longer than we had anticipated. 
However, I was able to drum up quite a few local shows during my time in Savannah, including a couple of private events, cool new venues, my favorite local beach bars, and even a small indie festival on iconic River Street. I also made sure to hit up the jam session / open mic scene for fun to see some old faces, and I even made a few new friends out of it. (What up Cliff!) 
The only out-of-town gig that washed up for me was about 10 hours east of where I was based. Coincidentally, it was extremely near to where my grandma and other family live, near Fort Walton Beach, Florida. 
The pay for the gig was a 4k live performance video of just one song. I decided to take the opportunity because it offered me the chance to do exactly what I had set out to do on this trip – perform in new places and visit my family. 
At this point, I was able to fly Wifey back in from the DR to join me for a little while in Savannah/Jacksonville and to come along for the trip to perform at Enlightened Studios and see grandma. 
I dropped most of my remaining cash on a used car and surprised her with it when I picked her up at the airport. It wasn't quite the same kind of road trip vibes as our time in Oregon earlier this year, but it was its own unique kind of awesome. 
Along the way, we stayed in High Springs at an AirBnB/animal rescue homestead with a trippy host, and we also camped out at the beautiful Jenny Springs in Florida. We spent some quality time with my cousin's growing family, my Aunt, and of course Grandma. Unfortunately, we could only stay for a short time, because I had to get back to Savannah to play another show. 
Back in Savannah, we enjoyed some quality decompression time before Wifey had to return home to the island again. I stayed behind in the states to play a few more shows because around that time of the year nothing is happening in Cabarete. 
My friend works a lot and plays bass for a handful of bands, so he was kept pretty busy most days, except for when we would get blasted and try to make a ridiculous drum/synth/techno soundtrack and off-the-cuff script about an office romance gone bad. It was hilarious, at least at the time. 
At this point, I had finished several writing projects and had no current clients, which meant little income. After spending pretty much everything, I needed to get the money ball rolling again. So, I spent my time getting new clients, which thankfully wasn't too difficult and didn't take long. 
The rest of my time was spent trying to mix/master my new album, "BEND". I did most of that work in my buddies' living room mixing the tracks on his dope-ass, quadrophonic home entertainment system. 
I had essentially finished the entire recording for the album just before leaving for the states and just needed to finalize all the tracks and set up the release campaign. 
I was mostly finished with the production of "BEND", had a decent writing workload, had been exploring Savannah with my new car and mountain bike as often as I could and was playing shows once or twice a week. I had also kept up a basic, but consistent workout routine. 
I had been at my friend's place for nearly two months when my original plan was to travel around the southeast playing shows. Well, traveling is expensive and we were having a pretty good time playing music and kickin' it, but it was time to come home. 
I cruised down to Jacksonville to spend a couple of final nights and pack all my gear and new toys for traveling back to the DR. On the way I met up with a new friend for a creative collaboration in Brunswick, GA, in between Savannah and Jacksonville. 
Check out the live video we made here. 
I left my car at my mom's and she dropped me off at the airport. I remember doing some mixing work for "BEND" on the flights home. When I returned at the beginning of September, there still wasn't much happening around town. 
That granted me time to finish producing the album, prepare the release, knock out some cannabis writing projects, get back in the gym, and hit the hills with my new mountain bike. 
It takes a week or so to settle back into island time, but it's always a blessing to come home. All in all, my US trip went well! I got to road trip a lot with Wifey, see family, play fun shows, and make spontaneous new adventures. 
Releases, Artist Features, and Holidays Fall 2019
When I came back to the DR in early September, it was super hot. Around town, I had my usual routine of live gigs lined up for the low season and a handful of writing clients. September saw me swing back into the daily grind, and getting back into the swing put the release of my new album briefly on the back burner. 
In October, I made the goal to carve out some time to start recording my next musical project. Remember, I had initially set out to release three projects this year. Needless to say, I pressed through October and worked my butt off. I managed to make a little bit of time for recording, but not near as much as I would like to. 
Meanwhile, I try and make the release of my new album a success. I'm still learning how to do this music thing. The "BEND" EP was a lot different than the blues album I had just finished with FreedM and equally estranged from my debut album from 2018.  
The 6-track self-produced EP released worldwide on Nov. 1st. I haven't made any hard copies, however, several downloads have made it out to the world. Some of the tracks like "Lonely" and "Black Coffee" are also streaming pretty well on Spotify, have received a significant amount of media coverage, and made some dope playlists placements. So, that's cool! 
You can download the album "BEND" here. 
November saw me promoting my new album as much as possible, it's likely if you're reading this then you probably saw some promo in the past month. As the high season started creeping in, the local gigs started picking up, including the opportunity to perform as the opening act for an iconic Dominican Jazz Artist, Patricia Peyrera at the 10th Anniversary of the 3 Mariposa Montessori Foundation. 
Around this time, Wifey had to leave for Argentina to help her mom for almost a month, which left me to my own devices. I was certain I'd finally get some quality studio time accomplished. 
You might think three or four weeks is plenty of time to make a lot of progress in the studio. However, when you factor in every other aspect of life and trying to thrive as an independent artist, I found myself bogged down with the "BEND" EP promotion, keeping my writing clients happy, and the everyday duties of life. 
It's very easy to turn to mindlessness and distraction when you feel a lot of stress and pressure, but it only wastes time and compounds the pressure. One of my 2020 goals is to manage that aspect a lot better and spend less time with distractions taking up my attention. 
I played a ton of shows by the end of November and was ready for a break, but it didn't come yet. I was booked to play three nights in a row two hours away from home for the opening of a new Brewpub, in Santiago. 
Everything was lined up, and just a day after Wifey returned from Argentina, I left for three nights and four days to do my first shows in Santiago. It was a pretty fun "business trip" all in all and you can see a live video I made from one of the performances here.
I made it back to Cabarete on a Sunday, just in time to make my shift at the open mic session in VoyVoy (5+ years and counting). For most of November and December in fact, I've been pulling seven, eight nights in a row – and that's enough for me to appreciate a night or two off. Musicians understand that the holiday season (and touring) is like that though. 
Most recently, in December, I was asked to produce a song that the kids from the Dream Project (local charity/school foundation) had written. It was a nice little day project. The kids made their own bachata-version of the 12 Days of Christmas with their own lyrics and everything. We set up in an office space and recorded them live. You can listen to the recording here.
Even more recently was a performance at Justin James' grand opening of his new recording studio/retreat hotel, Project Paradise. Check out the video here. 
I've known Justin for years, as he's a long-time local Cabarateño. I have a ton of admiration for his successful music career and songwriting and was honored to kick it with him and his family at the new facility. I hope we can get some talented players in the new studio and make some magic in 2020!  
Now, it's somewhere in between Christmas and New Year's and I'm gearing up for 2020. I am looking forward to all the new opportunities and hope to keep getting better at what I do, especially music. 
2020 Plans & Beyond 
I'm hoping to make another US tour in 2020, and manifesting that it is more scheduled and planned than the last one! As soon as January rolls around I'll be hitting the send button trying to land gigs mostly touring Florida's east coast based out of Savannah and/or Jacksonville. 
I'm still contemplating the best time frame and will most definitely keep you updated along the way! 
Another goal is to keep up the weight training, as it's a great way to relieve stress and become stronger and healthier. And of course, I'm planning on getting into the studio to make more music for you! 
I also want to upgrade my video and production gear/space this year so that I can bring you more content that at least has some level of production to it. 
I have some other content-related goals in mind, but I'm going to keep them under wraps for now. You don't have to tell everyone everything you know. 
Wow. That's pretty much it, my 2019 in review. Can you believe how fast it's all gone by? Thanks for reading this long-ass article, haha. Even if you only scrolled down to see how the year ended, thanks for stopping by! 
If you enjoyed reading my year-end recap, then share this with someone you think might also find it fun to read. 
You can read more of my blogs in my Conscious Blog. Please stay in touch and up to date by signing up for my monthly newsletter. You can also sign up to become a free website member to get great perks and exclusive content by clicking here. 
You can support my music, writing, and more content like this by purchasing a song, becoming a Patron on Patreon or making a one-time donation by clicking the tip jar below.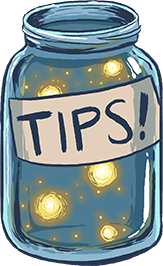 Thanks, family! Don't forget to connect with me on social media by using the icons on my website or linked nearby. 
I'm mostly on Instagram and am using Facebook less and less these days, but I would love to hear from you! Leave me your comments on my year in review in the discussion section below or on social media! Bless!