CBD Review & Unboxing: R+R Medicinals 
In-depth Analysis and Review of R+R Medicinals 1,000mg CBD tincture and 30mg CBD capsules with Aaron Matthew.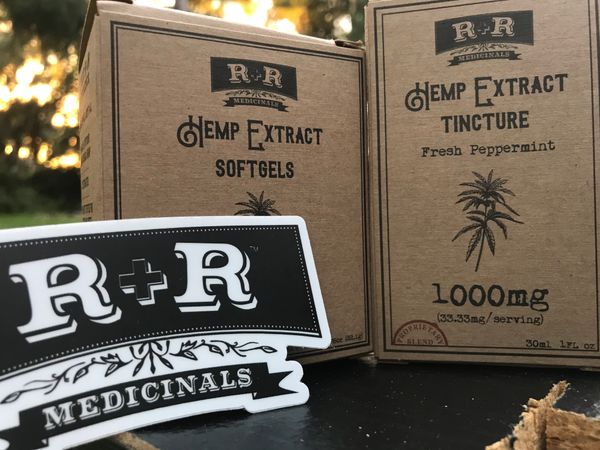 Hey, this is Aaron Matthew indie artist, author, and the creator of this content. Thanks for checking out my Conscious Blog. Please consider supporting this channel by downloading music, joining my newsletter, and sharing this content. Download Music... #r+rmedicinalsreview 
I live most of the year in the Dominican Republic and return annually to tour the US and visit friends and family. This year, something is different though. 
This year, CBD is everywhere! It's in grocery markets and health food stores, convenience stores, and gas stations, vape shops, head shops, and every kind of shop you can think of is selling CBD now. 
I couldn't walk past a café without being offered CBD in my coffee or a CBD infused soda. I've been working in the cannabis and hemp industry for nearly five years now, and I must say, it's amazing to see this happening! 
If you aren't familiar with what CBD is here is a quick catch up. Short for Cannabinol, CBD is the primary compound in the hemp plant, which has been cherished for its therapeutic properties for centuries. 
CBD Farmer & Freelance Writer
Before we get into the review I want to give any new comers here a little bit of background. I work seasonally with licensed cannabis and hemp producers in Oregon assisting in all aspects of cultivation and am an expert freelance writer covering the cannabis and hemp industries.
The bulk of my writing work has been focused on cannabis and hemp-related health science concepts.I've written countless research articles and editorials on nearly every aspect of cannabis, hemp, and CBD that you could think of … more than twice! 
Perhaps that's why R+R Medicinals reached out to me to review some of their best-selling products. Well, they couldn't have picked a better individual, because I'm super passionate about this topic and I know how to weed out the weak from the strong when it comes to quality CBD products.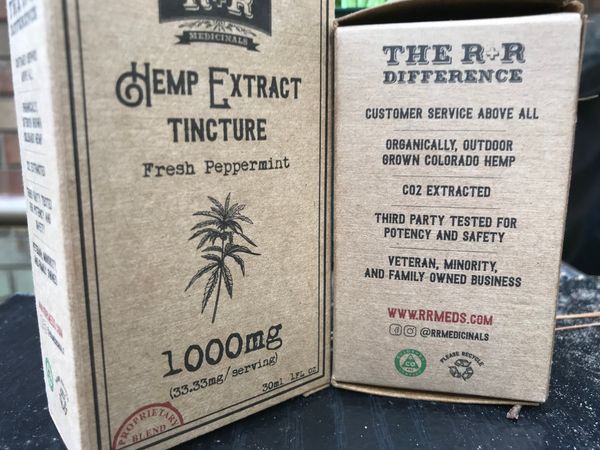 Review of R+R Medicinals CBD Brand 
R+R Medicinals is a minority, veteran, and family-owned CBD company out of Aurora, Colorado. They sent me their best CBD products to try out and asked me to write a review. 
I told them that I would be honest and that if their products weren't up to par with my criteria for quality then I would have to be real about it. They sent me their CBD without hesitation and I'm happy to say – I loved their products!
Before I go into the in-depth analysis of the products I tried, I'll get right to the point and tell you why I loved R+R Medicinals from the get-go. 
Batch Tested & Source Traceable 
All of R+R Medicinal's products are rigorously tested for purity and potency using third party labs. Each R+R Medicinal product also comes with a QR code and batch number that allows you to identify and verify the source of your CBD product. 
To me, in a largely unregulated market, this is the gold standard for creating a trusted and authentic brand of CBD. 
Full-Spectrum Organic CBD 
R+R Medicinal's CBD is made from whole-plant hemp extract and includes all of the vital terpenes and secondary cannabinoids needed to trigger the entourage effect. 
Other brands make cheap products based from isolated CBD and added synthetic terpenes that don't deliver the results people need. While isolate-based CBD has its place, full-spectrum CBD is the way to go, trust me! 
Furthermore, their CBD products are made using Colorado-grown organic non-GMO hemp. All of which are criteria on my checklist for high-quality CBD.  
R&R Medicinals CBD has Powerful Effect 
I meet a ton of folks who tell me CBD didn't do anything for them. While each person will respond uniquely to CBD, I think that many of them just took low-quality CBD that failed to deliver its promised effects. 
With R+R Medicinals, I experienced the effects promised! I mostly use CBD to help me fall asleep at night. I also use it when I experience muscle pains from being active or acute stress from daily life.  
My symptoms aren't typically severe, but when they are I know that a high-quality CBD will help balance me out. After trying R+R Medicinals CBD, I would recommend them to anyone that seeks an affordable and trusted brand.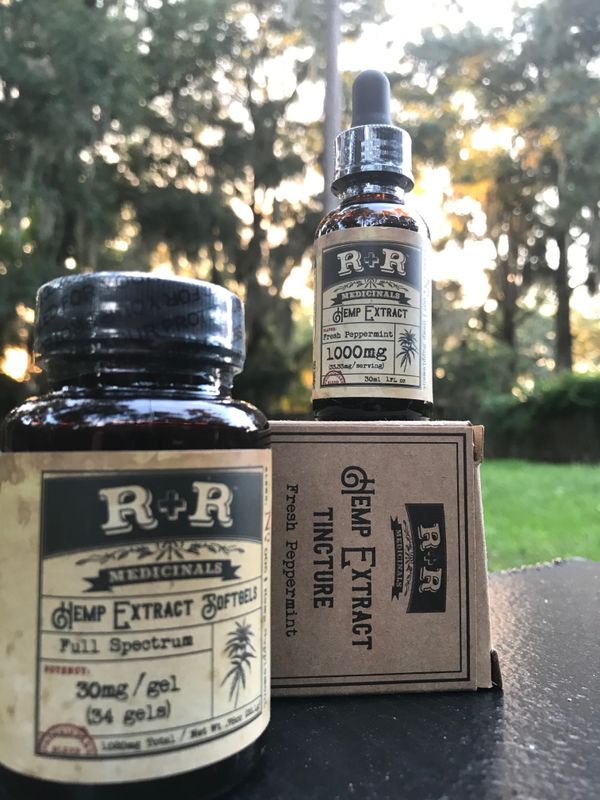 1000mg CBD Tincture by R+R Medicinals 
Here's what I love about R+R Medicinals 1000mg CBD tincture. First off, the potency is a perfect strength for most people's basic daily issues of stress, inflammation, and insomnia. 
The suggested serving size is 1 ml, which is a dropper full or just over 30mg of CBD. I took .5ml, only about 15mg of CBD, to gauge how effective the tincture would be on me, and it was great! 
The peppermint flavoring isn't overbearing, which is good because I don't really like flavored CBD oils or tinctures. That being said, you can taste the earthy, hemp oil flavors underneath the peppermint quite well. 
Some people don't like that natural hemp flavor, but I really enjoy it and it's also a good sign that the CBD is made using whole-plant hemp extract. 
For me, 1000 mg 1-ounce size CBD tincture bottle would easily last 1-2 months. At a retail price of $43 per bottle and a 30-day money-back guarantee, you'll be hard-pressed to find a better risk-free value deal on high-quality CBD. 
30mg CBD Capsules by R+R Medicinals 
Honestly, R+R Medicinals 30 mg CBD soft gels were my first experience with CBD gel capsules. I took it about 45 minutes before I wanted to go to bed. 
It took about half an hour for the CBD soft gel to begin taking effect. At a dosage of 30 mg, twice my normal dose, I noticed the extra strength.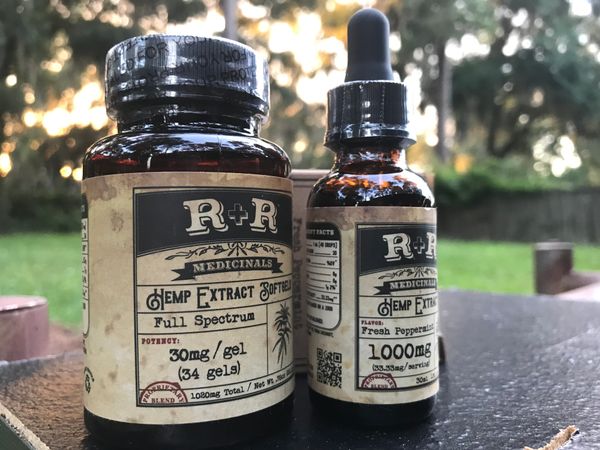 If you've never taken CBD, it doesn't make you feel stoned or drugged like marijuana does, but it does induce a naturally calming and sedative-like effect. 
If you've never taken CBD before, it's hard to describe how CBD makes you feel. Imagine feeling your muscles and nerves super relaxed, your mood is set to joyfully chill, and you have the intense sensation to just rest. 
I slept like a baby and woke up the next day feeling super well-rested. For me, falling asleep and getting a night of good quality sleep is a challenge. R+R Medicinals 30mg capsule did the trick though. 
I don't ever want to turn to sleeping pills and other harsh drugs to help me sleep or relax. They have toxic effects on the brain and body and cause severe cognitive issues. 
Final Review of R&R Medicinals CBD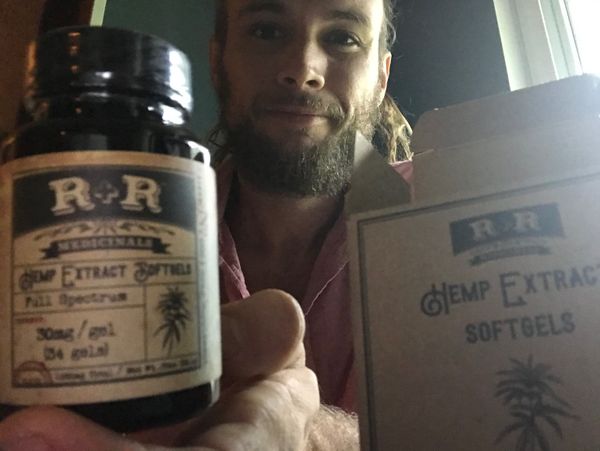 I am super honored that this company reached out to me to review their CBD products. I was not disappointed and was actually quite surprised at how great this brand is. 
From what I can see, R+R Medicinals checks off all the marks on my list for what you need to look for in a high quality and reputable retailer of great CBD products. 
Their products are great, their business is a local family-owned operation, and they have an extremely competitive price point for the level of quality they offer. 
Don't hesitate on this one, folks. If you've been thinking about trying CBD, go for R+R Medicinals and get the good stuff! They have CBD tinctures at low, mid, and high level potencies, various potencies and bottle sizes for their CBD soft gels, and they also have a CBD tincture formulated specifically for pets! 
*GET 10% DISCOUNT AT CHECKOUT ON R+R MEDICINALS CBD*
Watch the Video Review on my YouTube Channel 
Support This Channel!
Thanks for reading, friends. If you've enjoyed this content please consider sharing it with others who you think may also enjoy it. 
We'd love to hear from you! Let us know about your experience with CBD and what you think about this incredible hemp supplement in the discussion section below. 
If you enjoyed this content and would like help to create more like it, consider supporting this channel by downloading music, connecting with me on social media, joining me on Patreon, or just share my songs, articles, and other content with your friends! 
Make sure to check out my other blog articles and videos, and don't forget to get your free music download just for signing up to my monthly newsletter and look for me on Spotify and Itunes! 
Until next time, family, bless!